Behavior
The woodpeckers range from highly antisocial solitary species that are aggressive toward other members of their species, to species that live in groups. Group-living species tend to be communal group breeders. In addition to these species, a number of species may join mixed-species feeding flocks with other insectivorous birds, although they tend to stay at the edges of these groups. Joining these flocks allows woodpeckers to decrease anti-predator vigilance and increase their feeding rate. Woodpeckers are diurnal, roosting at night inside holes. In most species the roost will become the nest during the breeding season.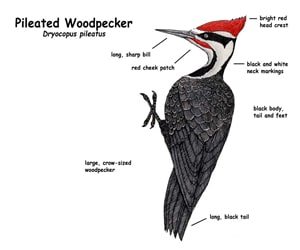 The stiffened tails of woodpeckers are crucial for their climbing and foraging techniques. The tail is used as a prop. Here a black-rumped flameback rests while foraging using its tail for support. The plumage of some species is often iridescent. Although the sexes of Picidae species tend to look alike, many woodpecker species have more prominent red or yellow head markings in males than in females.
Diet & Feeding
The diet of woodpeckers consists mainly of insects and their grubs taken from living and dead trees, and other arthropods, along with fruit, nuts and sap from live trees. Ecologically, they help to keep trees healthy by keeping them from suffering mass infestations. The family is noted for its ability to acquire wood-boring grubs using their bills for hammering, but overall the family is characterized by its dietary flexibility, with many species being both highly omnivorous and opportunistic with a diet including ants, bird eggs, cactus fruits, lizards, nestlings, and insects.
The insect prey most commonly taken are those found inside tree trunks, whether they are alive or rotten, and in crevices in the bark. These include beetles and their grubs, ants, termites, spiders, and caterpillars. These may be obtained either by gleaning or, more famously, by excavating wood. Having hammered a hole into the wood, the prey is excavated by a long barbed tongue. Woodpeckers consume beetles that burrow into trees, removing as many as 85 percent of emerald ash borer larvae from individual ash trees.